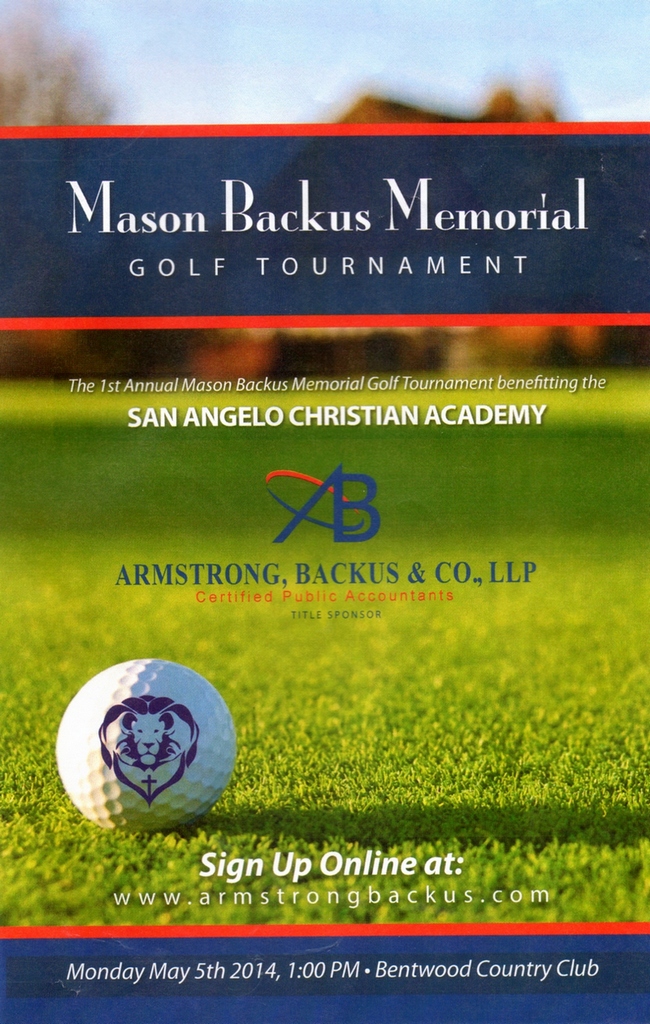 Mason Backus Memorial
Golf Tournament
benefitting
San Angelo Christian Academy
Sign up online by filling out the form here.
The Deadline for registration has been extended indefinitely. Keep checking here for more information.
When planning your Easter weekend trips, remember that due to bad weather, April 21st is now a school day and not a holiday as was originally planned.
The Academy is on the local news in support of abused children. The Concho Valley Children's Advocacy Center sponsored the event. Click on the link here.
The school calendar for the 2014-2015 school year has been approved by the School Board. You can view it here.
We greatly appreciate those who have taken the time to photograph events and send them to be used on this website. To have your pictures of Academy-related events displayed on this page or on a page of their own, contact the Academy via email or phone at (325) 651-8363.
NEW Tuition rates for the 2013-2014 school year.
Pre-kindergarten - $3,200
Kindergarten through 5th grade - $3,800
6th through 11th grade - $3,900
We have scholarships and multi-child discounts available. Applying for a scholarship does not require a commitment to enroll; this gives parents the chance to see what actual tuition would be before making their final decision.
We are accredited! As of 8 JUL 2010, we earned our nationally recognized accreditation from the National Christian School Association.
To view the 2013-2014 School Calendar in pdf, click here.
Join our Newsletter! (Click on Join Newsletter to the left, then fill out the brief form.) The MONDAY NOTE will be sent via the Newsletter.
If you experience difficulty accessing any of this site, to include embedded links, contact the WebApprentice for assistance.
Leroy, The Academy's Mascot